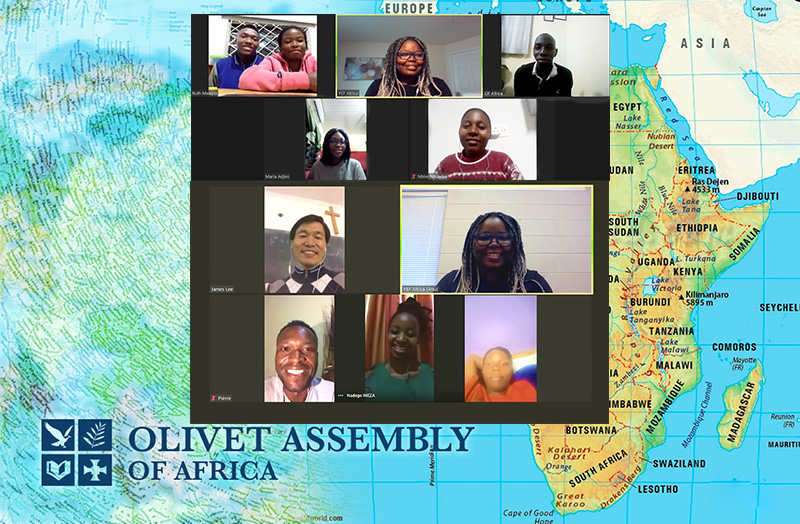 Africa Online Evangelism has clear targeting for M40 and ministries are helping each other to raise many youth leaders. Especially Olivet Assembly of Africa(OAA) and Olivet Fellowship(OF) Africa join each other to give membership of youth ministries including YEF Africa, AM Africa, OTM, and OHS together. OF Africa will move forward to French countries after getting one of the staff coming from Rwanda.
OAA trying to send one of the leaders, Pierre, to Kenya as a staff of OF Africa and expecting French evangelism. He will come after getting the passport this week and working for the IT department. OF Africa will try to use his French region online evangelism as Africa has 26 countries of French using. They are expecting big development of Africa's mission network with French online evangelism.
AM Africa received a sister of South Africa(SA) from OAA and starting to make online fellowship and bible study and she joined from Jubilee international for the first time. They started to edit cyber church in EAF, SA, Nigeria first, and the next is Congo and Angola for the languages. They have 7 RCMs and active in the bible study.
YEF Africa forming 12 chapters and active leaders to level up RCM, RSSM, and VM to CM. They gave guidance for Evangelism to Rwanda members. She plans to Mozambique and Ghana.
OTM Africa leaders also joining and follow up OF Africa prayer meetings and conferences diligently in order to participate mission network. They raising new leaders to make networks in Zambia and Kenya. They decided to use 2nd chapter leader, Mary Phiri, for 2 months as the Zambia representative is preparing the final examination.